Posted by Diane Kramer on Oct 27th 2020
Ten years ago, I was diagnosed with multiple sclerosis (MS). I had just turned 27, and was working full time as a nurse, and my five-year-old daughter had just started kindergarten the month before. I recently started dating the man who I would later marry when I lost the feeling in my left hand. Then I lost the feeling in my left foot, and the numbness traveled up my leg, and spread across my torso. I was having other symptoms like vision disturbance and weird clusters of headaches. After extensive imaging and tests, I received a call as my work day was just starting from my first neurologist. The message was short and simple and forever life altering:
"I am so sorry, you have multiple sclerosis."
Three months after diagnosis, my insurance changed. My disease-modifying therapy, the class of medications used to help control MS, and my neurologist were no longer covered. I transferred care to another neurologist in a town 40 minutes away. That neurologist predicted that I would be in a wheelchair in a year, based off of what he saw as a "rapid progression." In the same conversation, the neurologist recommended I "quit [my] job now to spend what little time [I] may have left with [my] family." He followed that appointment up by sending me a catalogue of durable medical equipment, like wheelchairs and hospital beds to prepare me for what he believed was my inevitable future. In the back of the catalogue was an ad for the National Multiple Sclerosis Society and the phone number (800) FIGHT MS (1-800-344-4867).
I reached out to the National MS Society, and connected with an MS Navigator. MS Navigators are a professional, highly trained, group of care managers and troubleshooters who offer confidential, free and compassionate help to anyone affected by MS. My Navigator helped me self refer to a MS Comprehensive Care Center, and connect with a neurologist who is a MS specialist and leading MS researcher.
As all of that was going on, I took the naysaying neurologist's words as a challenge. I went to the nearest box store, and bought a pair of running shoes. With no game plan or training strategy, I just started running. I wasn't fast, and I walked a lot, but I just kept lacing up and showing up. I have always been an athlete. I was a soccer player through high school, a cheerleader, volleyball and softball player. I was always playing with my kid, and active, but I had not run in a very long time. I was constantly being battered by medication changes, side effects and insurance company shenanigans; running became the thing that I had full control over.
In 2016, I was hospitalized for 5 days because of the effects of multiple sclerosis. I have periods of time where I cannot walk, or I cannot see. Multiple sclerosis is unpredictable, and always there in the back of my mind. I train for those days, the ones that can stop my momentum if I allow it. Rest days are as important as running days, and I find a desire to surround myself with positive affirmations that I am doing my absolute best, especially when my best is being still.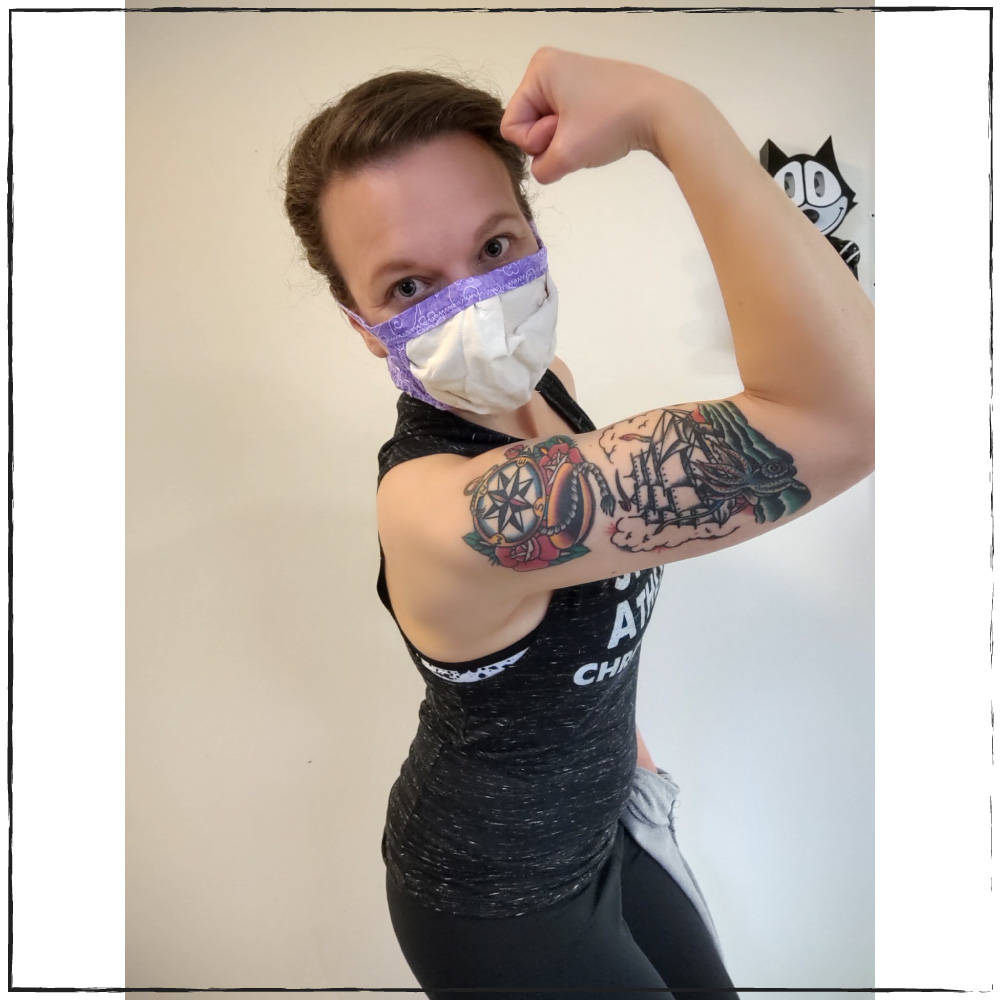 I saw the Strong Athletic line on Instagram, right around Mother's Day. I went to the site in search of a gift for myself, and found the Strong Athletic Chronically Ill shirt. It was the perfect statement for me. I am strong, stronger than I ever thought I would need to be, for a life that caught me on the blindside. This simple shirt is a banner for me. I wear it when I feel tired and I wear it when I feel triumphant. I have worn it to clinical trial visits, and to share my story of life with MS during a flat track roller derby event. I wore it today to run. I am coming out of a summer that was a true trial of every part of myself, and I just needed to declare these words over my life.
I am the only one who gets to define me. I will not be put in a box of limitations. I am a proud member of the MS community, and the SA crew. I am resilient, athletic, wicked smart and strong enough to fight every single day.
From Strong Athletic:
The first Strong Athletic Chronically Ill shirt was requested by roller derby athlete Killanois from Windy City in Chicago. Killanois both plays sports and lives with the autoimmune disorder Hashimoto's. After we posted a photo about the shirt to social media, many athletes with chronic illness came forward to request that they too could wear the design.
Strong Athletic donates a portion of profits from each Strong Athletic Chronically Ill and Strong Athletic Super Awkward shirt sold to the National MS Society.