Posted by Deanna Straw on Nov 3rd 2020
Growing up and even in my life, I haven't felt particularly confident or powerful. I grew up in the Rust Belt, just outside of Cleveland. My Dad was a steel worker and my Mom was a nurse. Both worked hard to make ends meet. The steel plant and Ford plant in the area employed most of the men in Lorain, and I grew up in an environment which was primarily working poor and a lot of minorities. I grew up learning Spanish from fellow classmates while in line for reduced lunch.
I have red hair and freckles. When we had to draw pictures of our families, or of myself, I'd pick the crayons and draw. If I picked my hair color with the "normal" red, I'd be told by classmates that my hair was orange. If I picked a crayon that was orange, I'd be told to use red. That was really the first time I remember being undermined about how I looked physically. Going through school, I eventually had to get glasses and had crooked teeth, which meant braces. I know that this was not just my experience, but it certainly didn't help.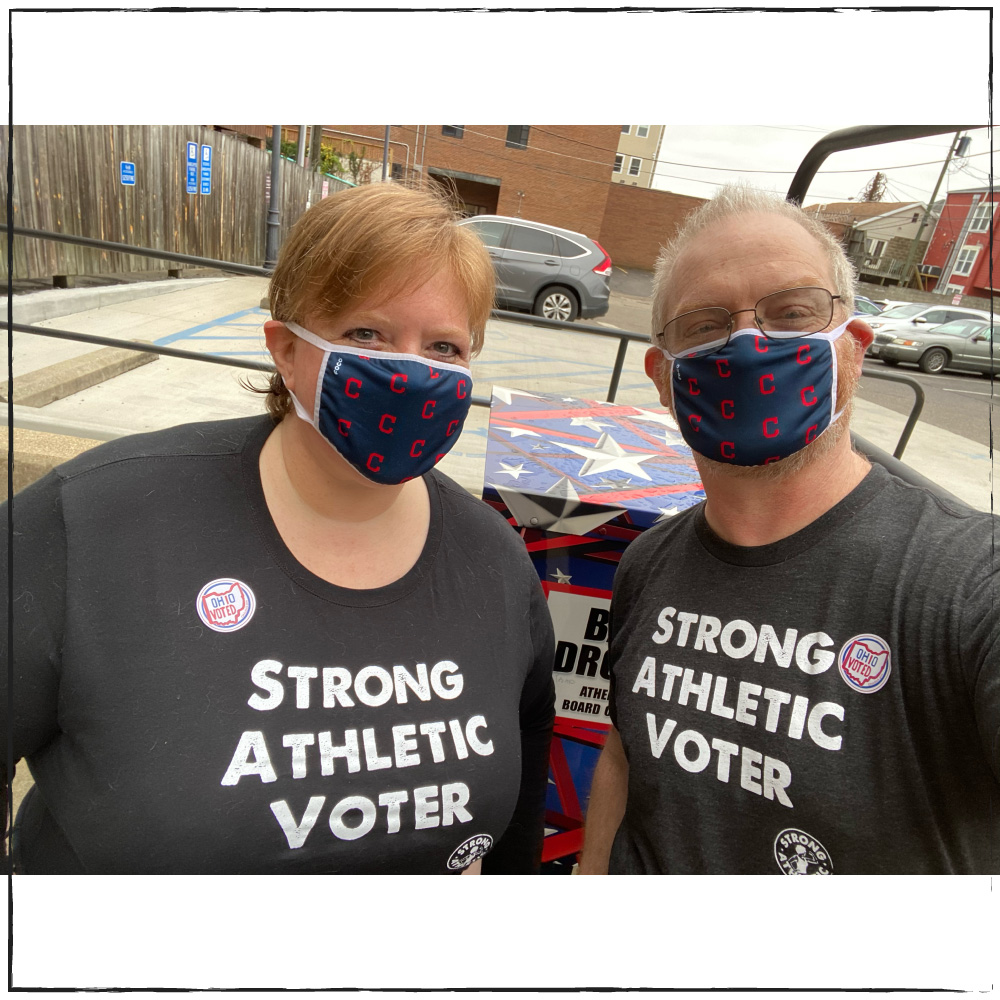 I think I was in about second grade when I voted for the first time. We had to vote for President Rubber Duck vs President Plastic Snake. I wasn't fond of snakes, but I remember our teacher made us give a reason about why we chose to vote for President Rubber Duck or President Snake. When Mrs. Vargas asked me who I voted for, I confidently said, "President Rubber Duck."
"Why?"
Again, I answered with confidence, "Because Erinie has a rubber duck on Sesame Street." Some of my classmates chuckled around me. My face flushed with embarrassment and I grew hot.
When I got home and told my parents we voted, my Mom asked me which I chose. I told her President Rubber Duck. My Mom also asked me why I chose President Rubber Duck. When she asked me why, I can still remember being unsure if I could tell or if she would just laugh. When I told her, I remember the smile on her face and she said something like this, "Well it sounds like you went with the candidate you knew." She wasn't wrong, I did vote for who I knew, and never mind that Erinie was one of my favorite characters on Sesame Street.
As I reflect back on my childhood I now have the language to label my emotions. I can remember the tingling in my cheeks. I can remember embarrassment. But I know now, that I voted for who was the better candidate, obviously, President Rubber Duck. And this was probably the year that my parents took me with them to vote for the first time.
Oh the wonder that I had when we walked into the Senior Center to vote! The booths made it so you had to stand, and pull a curtain behind you. My Mom checked in and got her ballot, just like I did for President Rubber Duck! Back then we still used a paper ballot that slid in behind the items on the ballot. You made your choices by punching the ballot for your answers. And my Mom! My Mom let me punch some of them for her! It was fun! I got a sticker! And I learned how important it was to vote even if President Rubber Duck didn't win. I felt confident. Empowered!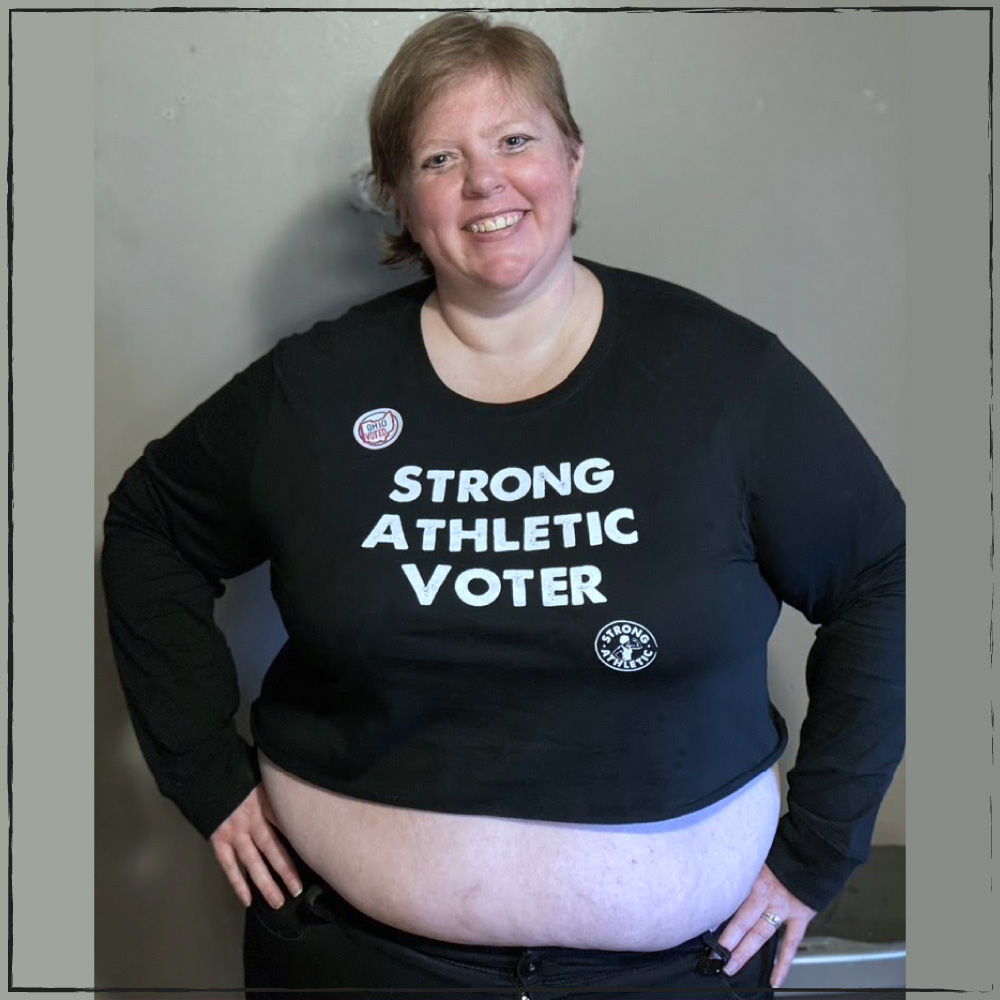 I have never missed an election in my adult life. I'm sure in large part it is because of my awesome parents and great teachers. When Strong Athletic showed the Voter version of their shirts, I knew I had to have one. And there was an option to have a long-sleeved version, BUT it was a crop top. Because Strong Athletic is size inclusive, there was one actually in my size. But I began to worry about my body. It's not a "crop top body". Never mind I look at all the humans in my life, especially in my roller derby league, and envied all the people who could wear one. So I quickly placed my order because NO ONE should be shamed for their body type. My league and spouse help me to feel empowered!
The day came for us to vote and I hadn't tried on the shirt. I was worried. I was fat*. My spouse and I walked out of our house, and the breeze across my midsection felt so nice. I felt so comfortable. It was no big deal, right? We were going to vote, an activity I always loved. As we got close to the Board of Elections, I was reminded that we live in a college town. I saw all these people who were younger and thinner and I began to worry. I got out of the car, gave myself a pep talk that nothing about my body was bad. It's strong. It's powerful. I want others to feel good about their bodies, much like my derby league has done for me. So I held my head up, put my shoulders back, and voted.
Guess what? I felt good after! Powerful! Confident!
It's not easy being a human in this world. It's not easy to be comfortable in your own skin most of the time. But I am an evolving individual and am learning to love myself, no matter what.
My hope is that others will do two things. First, vote and help people get to the polls. Second, our bodies are imperfect but they deserve love and care.
Deanna Straw is a member of Ohio Roller Derby. Her spouse is Mike, who referees for OHRD. They have 6 fur children. Dogs: Maggie and Maisy. Cats: Josh, Scrapper, Mjolnir and Eliza. This Halloween, Maggie and Deanna dressed as Rosie the Riveter. Maisy dressed as Ruth Bader Ginsburg.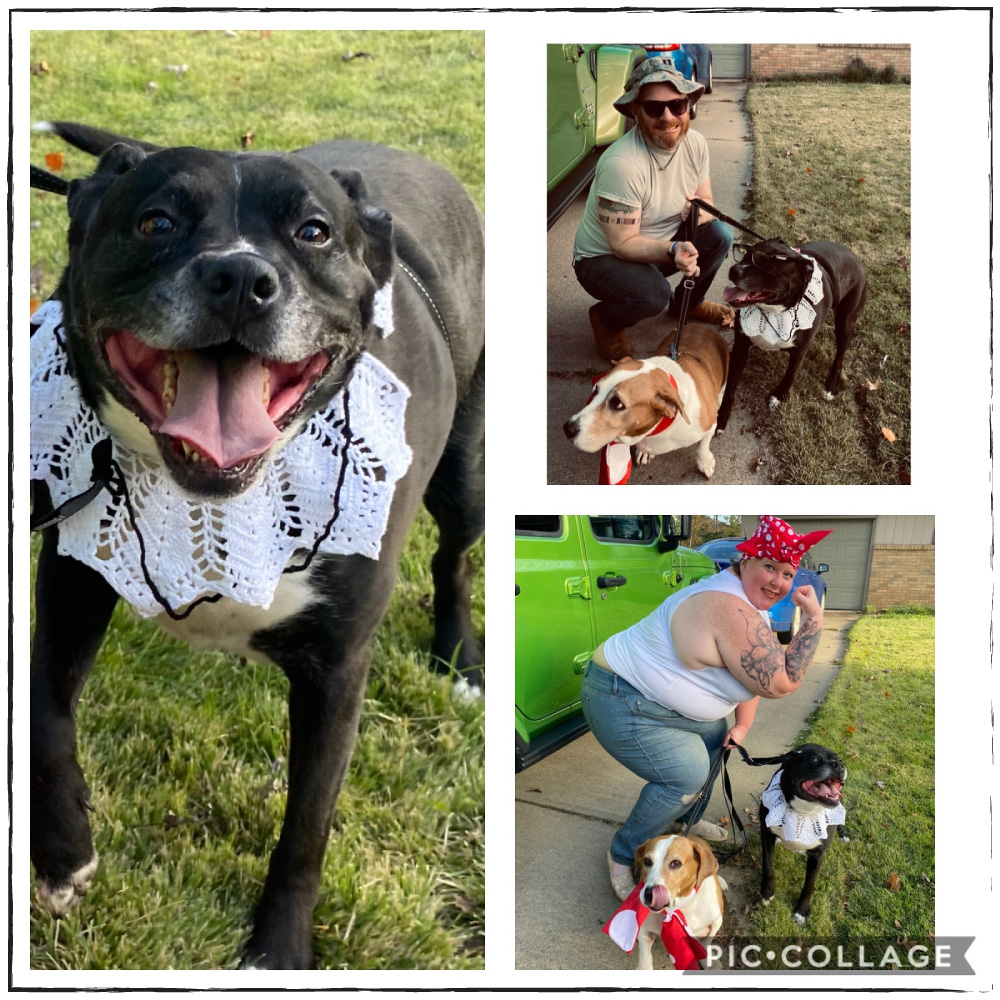 Keywords: why voting is important, first memory of voting, voting and body image, how body image impacts athletes, no body shame, crop tops are for everyone, crop tops are for every body type