Posted by Kerri Lonnberg on Nov 25th 2019
I started playing roller derby with a small league in Pueblo, CO about 10 years ago. Six years into playing I wanted to try something new, and so I moved to Denver to skate with Denver Roller Derby. Since I transferred, I've been part of Denver's travel teams: Mile High Club and Bruising Altitude. In 2017, I was captain of Bruising and I was preparing to be captain again in 2018. I remember specifically feeling like I was really stepping up my game. I felt like that year was going to be the ONE, and that I might really achieve some of my long term goals.
During this period, I had started to notice that my quads were feeling stiff and sore in my right leg and it had persisted for a few months. Soreness is very common in my sport, so I just assumed I hadn't been stretching enough. Even with the stretching, it slowly got worse. The soreness never bothered me while skating, but afterward, especially while trying to sleep, my leg would ache.
In January I got a massage, and I told the therapist about my stiffness. She said, "Well no wonder, you've got a really big knot in this muscle!" She tried to break it up while at that session, and encouraged me to foam roll it at home. So I did. After a few weeks of that, it became very painful. I was limping, and just generally feeling awful. I went to our team doc and he thought I must have torn the muscle. His theory made perfect sense to me! He said to schedule PT, but first go see my primary doc just to be safe.
If he hadn't recommended that I also see my doctor, I wouldn't have. I probably would have waited until I couldn't walk, or skate.
I went to my doctor and she ordered an ultrasound. I got it done a few days later and within two hours of leaving that appointment she called me and said, "There is a mass. It's not good. We are thinking it's cancer, but we need more testing to be sure." I said, "Uhhh what about my torn muscle??" She said, "It's NOT a torn muscle!"
This was Feb 20.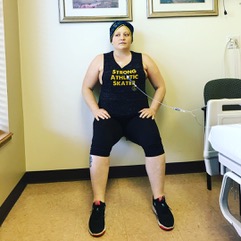 Next was an MRI, then a biopsy, then finally March 13, a diagnosis. Ewing's Sarcoma, Stage 3. A rare type of bone cancer, normally found in children. A 75% cure rate in kids, only about 50% cure rate in adults. And, if the cancer has spread, it goes down to 25%. So, my thoughts were.... am I going to die? Am I going to lose my leg? Luckily, my PET scan showed that it had not spread yet.
The plan was 6 rounds of chemo to shrink the tumor, then surgery to remove it, then 11 more rounds to kill any remaining cancer cells. This chemo regimen is one of the hardest there is because of the aggressive nature of this cancer. I did one day of chemo, then a week off. Then five days in a row, 9am- 4pm, then a week off. Then the cycle starts over. It was a full time job. I was unable to work at all during treatment.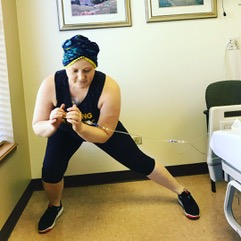 I had surgery in June and it went well. They felt confident that they got clean margins. But to do so, they ended up removing one of my quadricep muscles, the vastus medialis. They kept telling me, "But you have three more muscles there! They will compensate for that other one!"
But, after surgery, I couldn't walk. I couldn't lift my leg. I couldn't bend my knee. I was not prepared for that. I started PT a week after surgery and never looked back. I did my exercises faithfully, even during chemo, and they paid off. My nurses thought I was crazy, doing wall sits during my chemo infusions, but it was a good distraction.
I was only able to complete 14 out of the 17 rounds of chemo, as my body stopped recovering in between. My bone marrow was depleted, and even though I wanted to finish my treatments my oncologist said she was afraid it would kill me.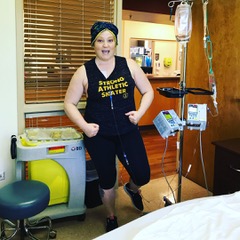 So, after 14 rounds- 42 infusions of chemo, 8 blood transfusions, countless ER visits, and 2 surgeries, I rang that f@#king bell! I have been declared cancer free and am back to doing what I love most.
Coming back to derby has been incredibly hard, both mentally and physically. Some days are amazing and some days I feel completely defeated. But I'm not ready to give up.
I'm so thankful for my friends, family, and teammates who continue to remind me what a miracle it is that I'm even skating. And that I am strong. I am athletic. And I didn't just beat cancer, I slayed it.
Farm Fresh, aka Kerri
...
A note from Strong Athletic: Members of FF's team were devastated when FF was diagnosed. They contacted Strong Athletic to see if we'd make her a special shirt that she could wear as she "slayed" cancer. We worked with FF to create the Strong Athletic Cancer Slayer tank. FF wanted other Cancer Slayers to be able to wear the words across their chest too, and so we have the shirt available in our store Strong Athletic Cancer Slayer. A portion of the sale goes to The American Cancer Society.